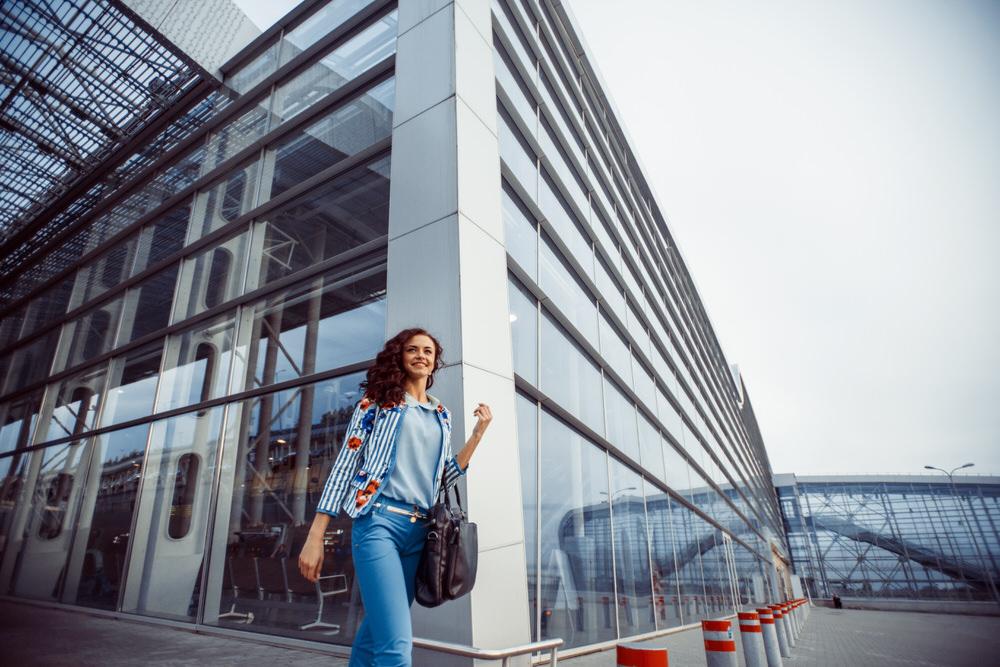 Airport Lounge book conveniently online
---
Whether snack or hot food, WLAN or cold and hot drinks. What kind of enjoyment the lounge at the airport offers you depends on the operator. There are airline lounges, which are operated by the respective airlines and are open to their guests with the corresponding status and the guests of partner airlines, such as the Star Alliance partnership. And there are the airport lounges, these are operated by contractors who are not directly part of an airline. These are almost always bookable for other travelers.
With EASY PARK & FLY, you can book your airport lounge and its services conveniently online

Search for a lounge at the airport now
Airport lounge: a pleasant start to your trip can be so easy with EASY PARK & FLY
---
With EASY PARK & FLY, you can book your time in the airport lounge before you start your trip: online, contactless and conveniently.
Airport lounges not only make traveling more pleasant, they are also ideally suited for making your trip more effective in a relaxed way. Whether it's a pre-trip meeting with colleagues before a business trip or a quiet get-together for the whole family before take-off, the lounge offers the right and pleasant atmosphere

Lounge at the airport: the right place for the preliminary meeting
With EASY PARK & FLY you can easily book the lounge at the airport online and with no hidden costs
Airport lounges can also be booked by traveling families, depending on the provider
Our booking terminal offers real 24/7 service
Your EASY PARK & FLY advantages at the airport
---
No searching for a parking space: guaranteed and secure parking at the airport by reserving a parking space
Full flexibility: through free rebooking, cancellation or extension of the parking space
Comfort and short distances: including a convenient airport shuttle, direct terminal parking or valet parking service
Insurance cover: e.g. on transfers from the car park to the airport terminal
Parking price guarantee: no surprises at the parking ticket machine or additional costs on site
Relaxed and stress-free: Exclusive combination offers e.g. airport parking lot with hotel accommodation
---
EASY PARK & FLY FAQ
---
What does a lounge at the airport offer?
This varies greatly and depends on the operator. The standard today includes comfortable seating, fast WLAN, snacks and drinks. There are also hosts who spoil travelers with really good food and fancy drinks.
Does everyone have access to the airport lounge?
No, not everyone is allowed into every lounge. The exact regulation depends on the operator. Airline lounges usually offer their services to passengers with the appropriate status
Can I buy a ticket for a lounge at the airport?
If the lounge operator offers it, you can book a ticket for a lounge online at Easy Park & Fly.
I am arriving the night before, can I stay overnight and park at the airport?
Yes, you can stay overnight at many airports. Almost everywhere there are hotels that cater to these overnight stays. You can book parking and hotel directly through Easy Park & Fly
Lounge at the airport: to make your trip pleasant
Every departure costs energy. This is also true for every trip. To make your trip as pleasant as possible, we offer you the possibility to book the lounge at the airport before you start your trip.
Snacks and drinks
The service that the lounge at the airport offers you, we can not name here in general. It depends on the operator and usually also on the airport. What you can always count on is a dignified, quiet area, where you usually have a fast WLAN at your disposal and can wait much more comfortably for your departure or your connecting flight
Snacks and drinks are now standard. How extensive this is depends on your destination. We know lounges whose kitchens are in no way inferior to good restaurants
WLAN for working, quiet for relaxing
You'll find Wi-Fi for working and quiet for relaxing in all airport lounges. That was the idea behind their development. They were designed to make traveling as pleasant as possible for frequent flyers
So relax with a movie or or take care of your pending tasks in peace and quiet. There are some operators that even have extra rest areas ready for you to relax with a power nap. As written, these rooms are designed to make the trip, besides all the effort, as pleasant as possible
Even more relaxation for your trip: Overnight stay and parking directly at the airport
If you're in the process of planning your trip, why not treat yourself to even more relaxation on your upcoming trip? You're doing everything right with a pre-flight hotel stay right next to the airport. Why stress unnecessarily? It won't improve your negotiating results on your business trip, nor will it sweeten your vacation. This unpredictability of the journey, only puts both in question. In the worst case, a missed flight can mean the total loss of your vacation or business trip
Therefore our airport tip: Book your lounge at the airport now with overnight stay and parking. This way you can enjoy your trip from the very beginning. No matter who is waiting for you. These people will thank you for it. Because negotiations and vacations are twice as much fun when you're relaxed, we promise.